Our pediatric dentists can help protect your child's smile every step of the way, from infancy until your child turns 16. However, it's important to get off to a strong start. If you're looking for the right place for your child's first dental appointment, Grandville Pediatric Dentistry may be right for you. We specialize in early childhood development and can answer all of your questions related to teething, primary teeth, and more.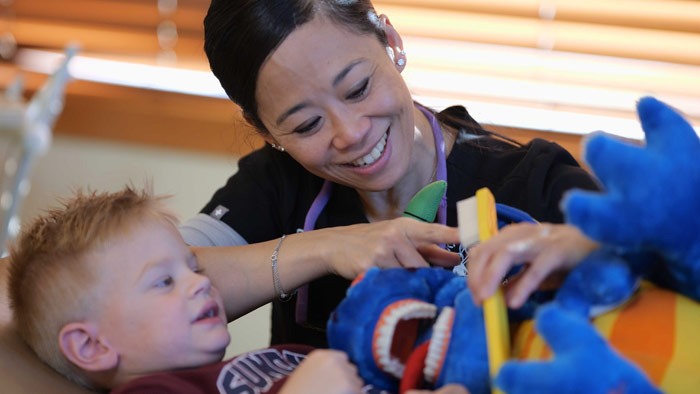 Infant Exams and First Visits
At your child's first dental checkup, our friendly, energetic team will make sure that you and your family are comfortable in our dental office. We will show you the best dental practices when caring for your infant's oral health and give you tips about cleaning your child's gums after feeding.
At Grandville Pediatric Dentistry, we look forward to developing long-lasting relationships with our patients, and we want to be a resource for you as your child grows.
Learn more about infant exams and first visits here.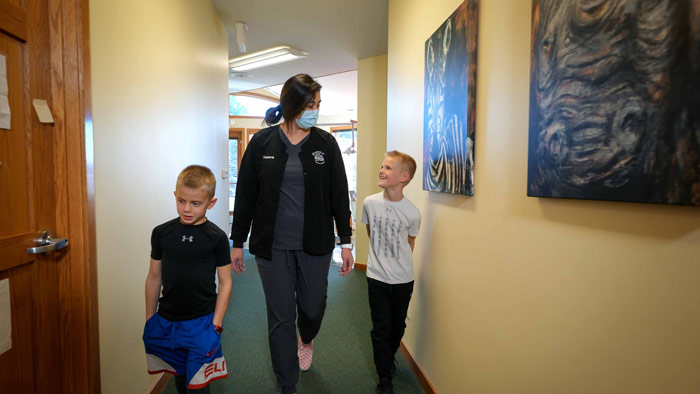 Dental Cleanings and Exams
Regular dental cleanings and exams are a simple, yet important, step in your oral health routine. With regular appointments at Grandville Pediatric Dentistry, your child has a minimized risk of developing tooth decay or disease.
Dental cleanings and exams are two of the most basic yet important preventive treatments we provide at our office. Each time your child visits our dental practice for a checkup, we will provide a professional teeth cleaning and dental exam to help his or her smile stay healthy.
During your child's cleaning and exam, our dental team will:
Clean your child's teeth by removing any plaque or tartar (also called dental calculus), which can lead to tooth decay and periodontal disease
Floss and polish his or her teeth for a healthy, bright smile
Examine your child's smile for signs of any damaging dental conditions or diseases
We may utilize dental X-rays to further evaluate your child's smile and make certain that he or she receives the dental care they need. Regular dental cleanings and exams are essential in maintaining good oral health, preventing cavities and gum disease, and making sure that any damaging conditions are treated as early as possible.
We recommend that your child visits us every six months for a routine dental cleaning and exam. We may suggest more frequent visits if needed, and we also encourage you to contact us if your child suffers from a dental emergency, pain, or injury. To schedule your child's next appointment, we invite you to contact us today. We look forward to caring for your child's smile!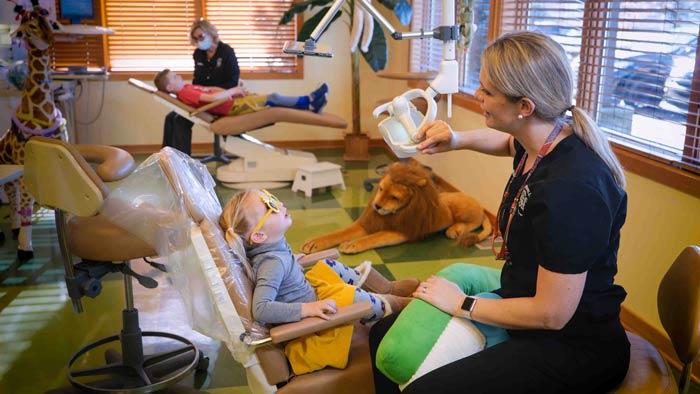 Dental Sealants
If your child needs a simple, effective way to protect their teeth from decay, our doctors may suggest dental sealants. Dental sealants literally enable our team to put an invisible shield around your child's teeth to protect them from cavities.
We simply paint on a thin layer of clear composite resin on to the back teeth (because they are the most susceptible to decay), and in a few minutes, it turns into a firm barrier that food particles, bacteria, and acids cannot cross.
We can give your child a sealant at the end of their next appointment, and after that, it can provide up to a decade of round-the-clock cavity prevention.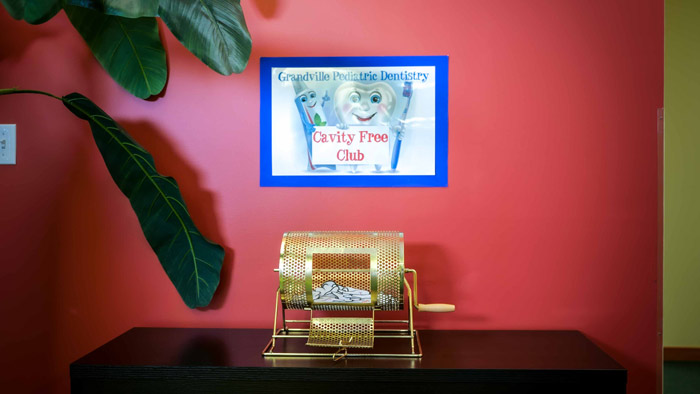 Silver Diamine Fluoride
With silver diamine fluoride (SDF), we now have a gentle, noninvasive option for preventing and treating active cavities that enables us to better preserve a child's enamel.
Applied to the surface of the teeth as a liquid, SDF actually kills the bacteria responsible for dental decay while also stopping it from affecting the nearby teeth. It is especially useful for children with excessive decay or who have numerous cavities that cannot be treated in a single appointment.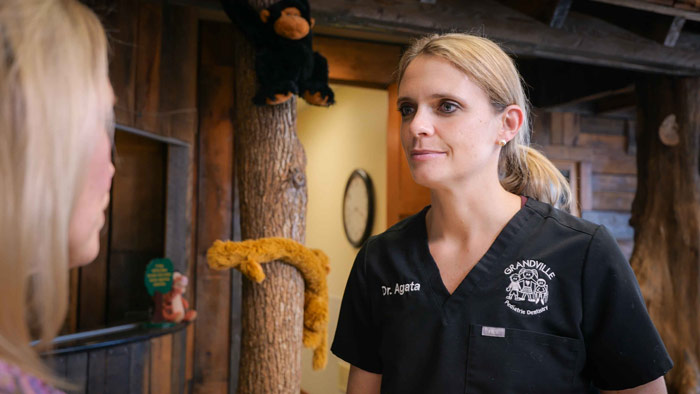 Special Needs Dentistry
Children with special needs have a much higher risk of developing dental health problems for a multitude of reasons. Many have mobility issues that make brushing and flossing very difficult, while others may have a lot of dental phobias because the dental office is an unfamiliar place. This is why those with special needs are more likely to have cavities, lose their teeth early, and experience oral development problems.
At Grandville Pediatric Dentistry, we won't just provide your child with any clinical service they might need. Our team can also help you put together a home care plan so your child can learn how to look after their smile between appointments, drastically improving their oral health in the process.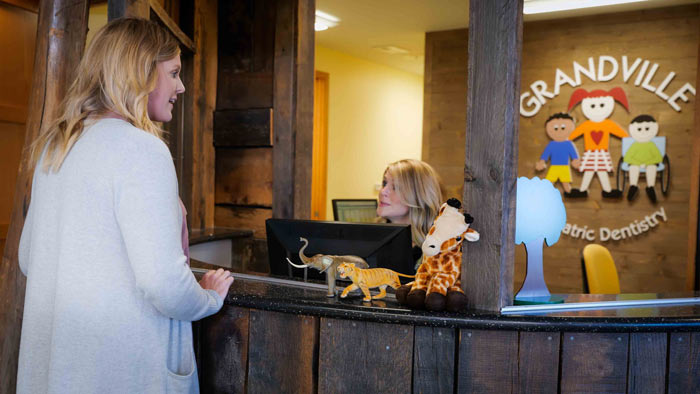 Emergency Care
At Grandville Pediatric Dentistry, we know that there is no way to plan for dental emergencies. That is why we offer same-day emergency care. Whether your child's tooth has been fractured or completely knocked out, our caring pediatric dentists and their team are here to help.
A dental emergency is a situation that requires prompt attention from a dental professional. At our office, we understand that you cannot always plan when your child will need our care. If your child experiences a dental emergency, we encourage you to contact us as soon as possible.
Our team will schedule your child to meet with our pediatric dentist as soon as we are able so your child can receive the care he or she needs.
We are happy to care for several types of dental emergencies, including:
Severe, lasting toothaches or other types of tooth pain
Damage to the soft tissues of the mouth, including the tongue, cheeks, lips, and gums
A cracked or fractured tooth
A chipped or broken tooth
A partially or fully knocked-out tooth
If your child suffers from one of these conditions or another type of dental emergency, please contact our office. Our team will also be able to provide instructions on how to take care of your child's smile until you and your child are able to come to our office to meet with us.
If your child has experienced trauma to the head or neck, we recommend that you and your child visit the emergency room or general physician before coming to us, even if your child's smile is also damaged. To learn more about dental emergency care, we invite you to call or visit us today.