How Do I Get My Child to Floss?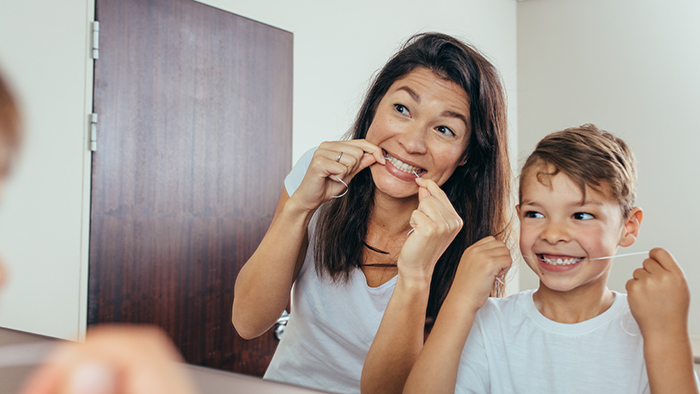 Sometimes it feels like it's hard enough to encourage your child to brush their teeth let alone floss every day. While it may take some extra effort to motivate your little one to pick up the floss and guide them through the process, our Grandville pediatric dentists assure you it's worth it.
Here's when you should make child's oral hygiene routine and how to teach them to do it properly.
a part of your
When Flossing Becomes Important
Once you notice two teeth that touch in your child's smile, it's time to introduce flossing. It may seem like too soon if they only have a few baby teeth to their name, but it's always good to integrate the habit into their oral care routine early.
After all, flossing over time can prevent plaque from building up and causing cavities or gum disease. That means less chance of them ever needing restorations like a tooth-colored filling or dental crown.
Steps to Follow When Teaching Technique
Unfortunately, kids aren't born knowing how to brush and floss their teeth. That's up to you to teach them. Of course, our pediatric dentists can help give you tips while your child is in our office for a dental exam but we can't be with you all the time.
For that reason, it's key that you know the
to pass down to your child. The following steps should be performed once a day to remove left behind bits of food from between teeth. Be sure to also have your child brush their teeth at least twice a day for two minutes at a time.
Our team of pediatric dentists recommend you:
Wind about 18 inches of floss around each middle finger and pinch it between your thumb and index finger.
Carefully insert the piece of floss between two teeth while making a back and forth motion.
Curve the floss in a "C" shape around each tooth and move the floss up and down the inner side of each tooth.
Repeat until you've made your way through each part of your child's smile. Try to use a clean part of the 18 in. of floss for each tooth you work on.
Types of Floss to Choose From
For the most part, our pediatric dentists recommend either woven or waxed floss. Some patients find waxed floss to be a bit better than woven as it tends to not get stuck in between teeth as easily. Ultimately, it's up to what you and your child prefer.
Floss also comes in flavored and unflavored versions. So, if you want, you can add some excitement to your child's routine with flavors like:
Mint
Cinnamon
Cotton candy
Bubblegum
And more!
Flavored floss not their thing? No problem. Plenty of unflavored floss options are just as effective.
If you'd like to try out
in addition to the standard variety, there are options like water flossers or floss picks. The only drawback with water flossers is they do tend to be a bit expensive which may not work for every parent.
Flossing tools are not necessary to get the job done but can be easier to control when you're still the one working inside your child's mouth.
Need Assistance? We Have Advice!
It may take some patience on your part, but soon enough your child will be flossing on their own. If you have any questions along the way, our pediatric dentists in Grandville, MI, are here to help provide recommendations to make the process as smooth as possible. Call Grandville Pediatric Dentistry today at (616) 531-3430 to request an appointment for your child.