Picking the Right Toothbrush and Toothpaste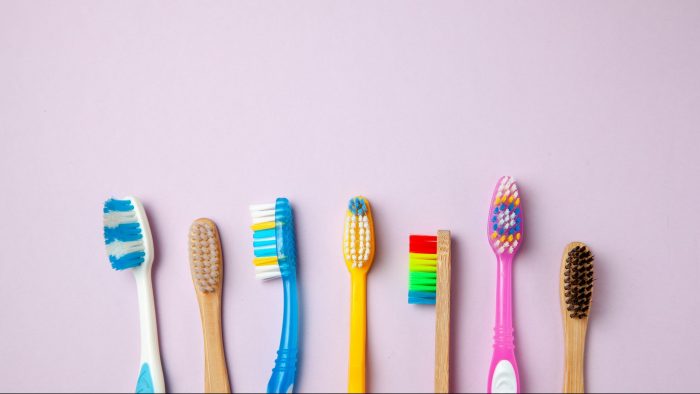 Kids grow so fast and right before our eyes. One day you are bringing them in for their first dental exam and the next, they no longer need your help brushing or flossing.
Unfortunately, we can't slow down the passage of time for you, but we can recommend how to go about choosing a toothbrush and toothpaste for your child. Continue reading to learn about which brush is best for each age, if electric is better than manual, and more.
Choose Based on Age
For ease of use and safety,
come in different sizes depending on what age your child is. There are specially designed toothbrushes made specifically for toddlers, preadolescents, and even babies.
Generally, it is recommended to use the following style of brush for these age ranges:
0-3: silicone finger slip toothbrush once teeth begin to erupt. After age 1, parents can use a toothbrush with a small head
3-5: kid-sized toothbrush; typically, one with a larger handle
6-9: kid-sized toothbrush: one with a slimmer handle than those for toddlers
10+: adult sized toothbrush
Electric vs. Manual
Walking through the aisle of dental products at the store can be a lot to take in. Seems like endless options, right? Stripping away brands, it all really comes down to two major groups.
or manual toothbrushes.
Is one better than the other? Not necessarily. While your less than dexterous young one may have an easier time clearing plaque with an electric toothbrush, manuals are just as effective.
A few things to remember when picking out a toothbrush of any kind:
It has a soft grip that is comfortable for your child to hold.
The brush has soft bristles that are gentle on teeth and gums.
Make sure the toothbrush suits your child's individual needs.
Buy one your child is excited about; don't just focus on features.
Note: Keep in mind that when bristles become frayed and or the toothbrush is at least 3 months old, it's time to buy a new one.
Fluoride Toothpaste for the Win
No matter which toothpaste you choose, it's always best to go for the options that contain fluoride. Fluoride is a mineral that helps to prevent unwanted cavities, strengthen tooth enamel, and reverse early tooth decay.
Toothpastes of this nature come in all sorts of flavors and colors bound to make brushing fun. You can allow your child to pick out the one they would like but it is up to you to make sure they're using the proper amount.
Children do not develop the ability to spit until about age 3. So, no more than a rice-sized amount of toothpaste should be used. Once they are between the ages of 3-6, they can transition to using a pea-sized amount. Young children need to be monitored closely while brushing. This ensures they do not swallow an excessive amount of
.
Encourage Thorough Brushing
We know, two minutes of brushing can feel like forever especially when you're dealing with an impatient child. Many toothbrushes for children have a built-in timer that helps keep track of the time but even then, it can be a stretch.
Our pediatric dentists recommend always aiming for that increment of time. But, if not possible, help your child to brush as thoroughly as possible. Even if you have to guide their brush across all teeth and in all nooks and crannies, it's better than nothing.
Be sure to also encourage your child to brush all the way back to the molars. This is important because baby molars do not fall out until they have reached age 12. Both electric and manual toothbrushes provide a great cleaning experience but it's up to you to instill the habit of brushing early on.
Schedule Your Child's Next Dental Cleaning
When you're not home teaching your little one the best brushing technique, we've got you covered. Our dental cleaning every six months unless we advise otherwise. That way, their teeth can shine bright and we can check for any arising issues.
, recommend bringing your child in for a
Schedule an appointment today by calling Grandville Pediatric Dentistry at (616) 531-3430 or contacting us online.