5 Ways to Calm Your Child's Nerves Before the Dentist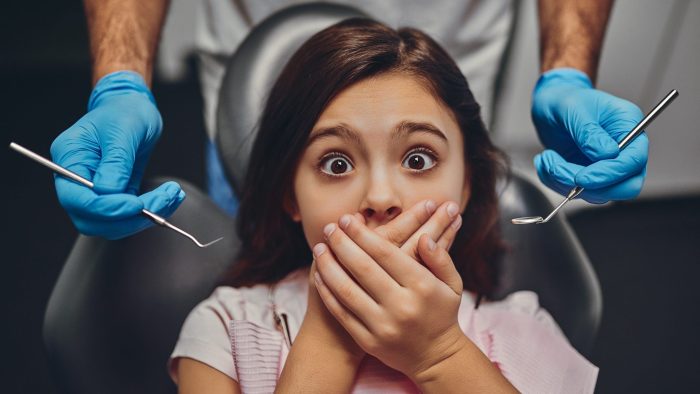 Whether your child has been to the dentist several times, or this is their first experience, anxiety is not uncommon. For one thing, the dentist's office is a whole new place with new people. It's likely your child has never seen an environment like it before and because of this, they may be feeling nervous prior to their visit.
Each of our friendly pediatric dentists has undergone additional years of education so they are well-versed in the techniques that can while in the chair. However, there are things you can do before arriving for your child's appointment that can help ease their nerves.
Here are 5 ways to soothe and get your child ready for their dental visit at our Grandville office.
Finding the Source of the Dental Anxiety
There are a variety of reasons why children harbor a
. Discovering why your child feels apprehensive can prove difficult at first as even they may not know the source. We recommend leveling with them and patiently listening to their concerns.
A child may have dental anxiety because of:
A negative or painful past experience
How dental tools look or feel
Someone in the family who also has dental anxiety (learned behavior)
Lack of preparation for the first dental visit
For children who have a tougher time and need extra help to get through their appointment, our pediatric dentists do offer treatment methods, such as laughing gas and oral conscious sedation. Ask us today about these options if you think your child may benefit from them.
1. Talk to Them
Having an open conversation with your child about their dental fear can help you understand where they're coming from. It can also allow them to get whatever is bothering them off their chest. Sometimes feeling heard is all it takes and can make your child more open to conquering their fear.
Depending on their age, be sure to use language your child can understand and do your best to answer any questions they may have. Try to avoid scary or frightening words that can add to their anxiety. Simply talking about their upcoming appointment, even if it's only a teeth cleaning, can educate your child on what to expect.
2. Bring a Favorite Item to the Appointment
When your child has something with them, such as a soft blanket or stuffed animal, they are more likely to feel comforted at our office. Choose an item that works for your child. For example, if they love music and it helps them calm down in stressful situations, bring headphones so they can listen to their favorite songs in the dental chair.
Over time, their comfort item may cause them to feel relaxed enough at the dentist that they no longer require its presence.
3. Read Educational Books About the Dentist
Most kids love story time and if possible, would prefer you read to them all day. Capitalize on your child's love of stories and share with them books about going to the dentist. Make it even better by selecting books that feature their favorite characters having their teeth cleaned so they can see there's nothing to fear.
4. Play Pretend Beforehand
Is your little one unaware of the general processes followed at the dentist? Help familiarize them in a fun way by assuming the role of the dentist and pretend to examine their teeth. Remember to explain each step of what you're doing so they can follow along. When you're done with the "cleaning", switch roles and have them do what you just did. Stuffed animals make great patients as well!
5. Make Sure They're Well-Rested and Not Hungry
How do you feel when you're hungry and haven't gotten enough sleep? Probably not great. You don't want your kid going into their appointment feeling cranky as it will only make matters worse.
Put your child to bed on time before their visit and aim for a full night's sleep. Then, when they wake up, give them a healthy breakfast and if needed, nutritious snacks until the time comes to head over to our Grandville office.
Schedule an Appointment Today
Our pediatric dentists in Grandville, MI, are familiar with kids who feel anxious about their upcoming appointments. We can provide additional advice to you if your child struggles with dental anxiety or recommend sedation methods should they prove helpful. Call Grandville Pediatric Dentistry at (616) 531-3430 today or contact us online.